eCommerce Website Design – The Basics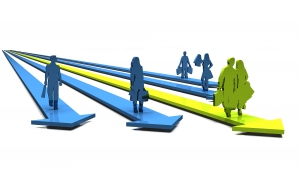 The benefits of having an eCommerce website speak for themselves. With the number of people buying via the Internet rising with each day, an eCommerce website can give your business a major boost. However, the online competition for customers is even more intense than that offline. In order to benefit from your eCommerce website, giving your visitors the option to buy via the Internet therefore won't do the trick. The same counts for your website design. It mustn't only impress but it must lead to the main goal of every eCommerce website – to transform a website visitor into a buyer.
eCommerce Vs "Ordinary" Website
Just like ordinary website, eCommerce website must attract and keep the visitors' attention. But unlike the ordinary website, eCommerce website must encourage action in the form of an online purchase. In order to achieve this, eCommerce website design must meet the following three criteria:
1. Attract the visitors with products. Unlike ordinary website that catches the visitor's attention with attractive colours, images and content, eCommerce website must attract the attention with products. As a result, eCommerce website design rather follows the approach of offline shops which attract customers with their products in display windows. The best products and specials such as money back guarantee or free shipping should therefore always be placed on the first page, and feature just enough information to make the visitors interested and encourage them to find out more.
2. Be user-friendly and provide an enjoyable shopping experience. If you are selling multiple products, they should be orderly arranged to allow the visitors to immediate access the desired items, similarly as departments in major stores. There should also be all the necessary product information, a customer-friendly shopping cart, easy instructions and of course, safe and easy payment procedure. Also appreciated are customer testimonials because many people decide for purchase only if a product is positively rated by its users.
3. Reflect trustworthiness. Despite the fact that online shopping is growing with each day, many people are still reluctant to buy online for safety reasons. To help them overcome their fears and decide to make a purchase, eCommerce website design must reflect trustworthiness and a high level of professionalism. It is actually very similar to offline experience. The vast majority of people are more comfortable buying in a tidy and professional-looking store than from a street vendor. To transform a visitor into an online buyer, your eCommerce website design therefore must reflect the feel of a high-end store rather than a street vendor.
Cost
eCommerce website design is slightly more expensive than "ordinary" website design because it is a little bit more complicated. However, it is also important to mention that eCommerce website design isn't as expensive as many business owners mistakenly think. In fact, it is possible to get a high quality service at highly affordable price if you only take some time for shopping around.